Automated Customer Support
Do you have a Facebook Page? How do you handle customer inquiries?
Sometimes customers text you at wee hours, because, you know, suddenly they thought of buying something, and they want to know if you're selling that particular item.
The item is mentioned on your website, but they're too busy to read it. I mean, why bother reading if you can ask?
Except that they ask at 1 AM, and your intern only works 9 to 5 😐
"Fine," you said, "My intern or myself will attend to it in the morning."
Except that, they also asked the same question to other businesses, because they can't wait. And since others are better staffed, they get the sale. Oops 😧
Last year, businesses must be present in social media. Today, you must be present in messaging.
But you have a personal life; you don't want to be answering inquiries all the time. Hiring support staff costs money.
You heard about this chatbot technology, some automation that can help with support. But it's not easy, and it costs a bomb to outsource.
Or, is it?
What if I told you, we have a chatbot that can learn from your web pages and can answer questions 24⁄7, and it costs 1/10th of an intern?
A CHATBOT THAT YOU CAN INSTALL ON YOUR WEBSITE, WHERE PEOPLE CAN ASK QUESTIONS AND GET INSTANT ANSWER, FOR ONLY $150/YEAR.
Here's a comparison with some other chatbot platforms: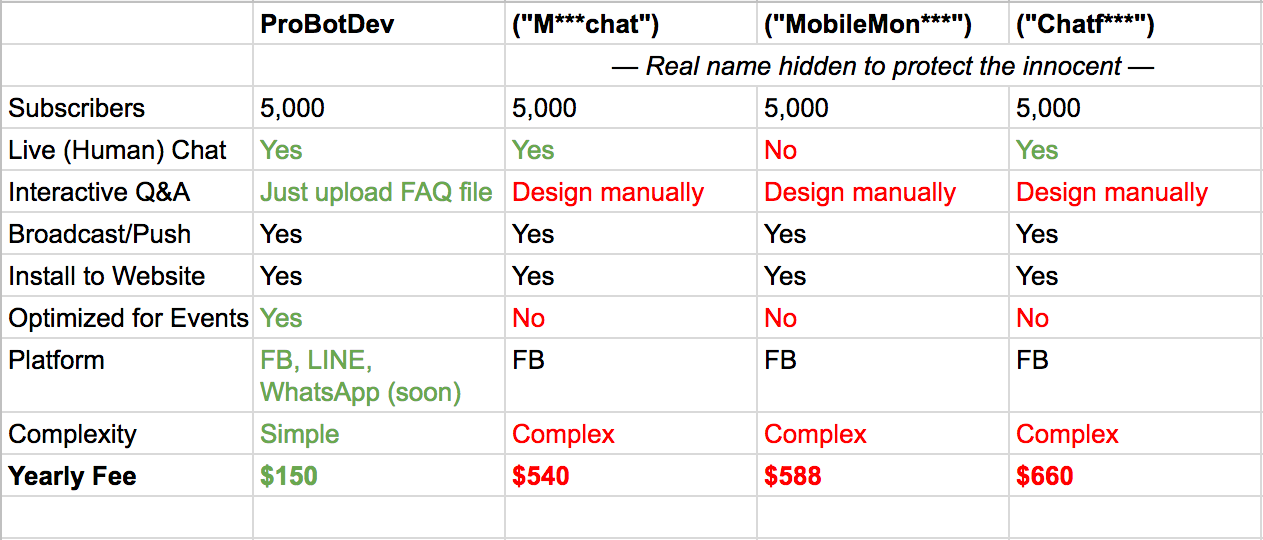 Terms and conditions:
On-boarding fee $50. We will guide you step-by-step to have a working chatbot.
Promo valid until December 31, 2018, but you don't have to redeem it immediately, can keep up to 1 year.
Non-refundable, non-transferable, but may be sold as your offering e.g., you make websites and want to include a chatbot, or you are an event organizer and offer this as part of your consulting package.
You can buy multiple—1 purchase is for 1 Facebook Messenger chatbot.
This is a yearly plan, but we don't immediately charge a subscription (since we don't know when you're going to redeem this). When you click the button below, it's a one-off payment.
You can install it on as many websites as you want (or none). Other messaging platforms are given for free as part of the bundle. Which means, your chatbot can be present in any platform that we support. For more details, please refer to our FAQ.
"But I'm a digital marketing agency!" Well, if you have clients that might need this, that's more reason to buy.
You can buy multiple of this, and offer it to your clients for at least an extra of $500/month. Profit!
Even if you only want this for yourself, this is a deal you wouldn't want to miss out. We won't offer at this kind of price again.
So, what are you waiting for?